CA & The Law
California & The Law
California's posture is a patent rejection of all local, State, Federal and Constitutional laws regarding women and children. A posture that has had lethal consequences. Read more:
INFORMATION COMING SOON!
LAWS ON CRIME: OVERVIEW OF CRIMINAL LAW
Tom O'Connor, Ph.D. Criminal Justice System lecture notes from North Carolina Wesleyan College. Site provides a "basic, rudimentary overview" on criminal law in "plain and simple language." Includes 7 characteristics of a crime, delineates specific categories of crime and defines certain criminal justice legalese. See more
DOMESTIC & FAMILY VIOLENCE LAW DATABASE
The Family Violence Department (FVD) of the National Council of Juvenile and Family Court Judges maintains the nation's only Statute Database dedicated exclusively to domestic and family violence legislation. The database, which is updated bi-weekly, allows users to search domestic violence laws from all 50 states and the U.S. terroitories. The database includes: criminal codes related to domestic violence, stalking, and rape; criminal procedure codes that dictate arrest procedures and bail conditions in domestic violence cases; statutes related to firearm possession and prohibitions; civil codes, which include custody (when domestic violence is present), orders of protection, etc.; statutes that provide for fatality reviews; statutes that prohibit insurance, workplace, and unemployment discrimination; and statutes that create address confidentiality programs and domestic violence and sexual assault counselor-victim privilege.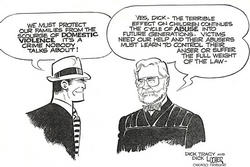 BATTERER INTERVENTION PROGRAMS FAIL
The HEART of the miracle bill was eliminating the UNCONSTITUTIONAL loopholes that the Sex Offender Fathers' Lobby, Parents United, created in 1980 and 1981. The goal of Parents United was to convince the apathetically predacious and blatantly brain-dead CA State legislature to decriminalize--AKA legalize--incest and, by legal Statute, force innocent children to be repeatedly raped and brutalized by their criminal fathers.
DOMESTIC & FAMILY VIOLENCE REPORTS